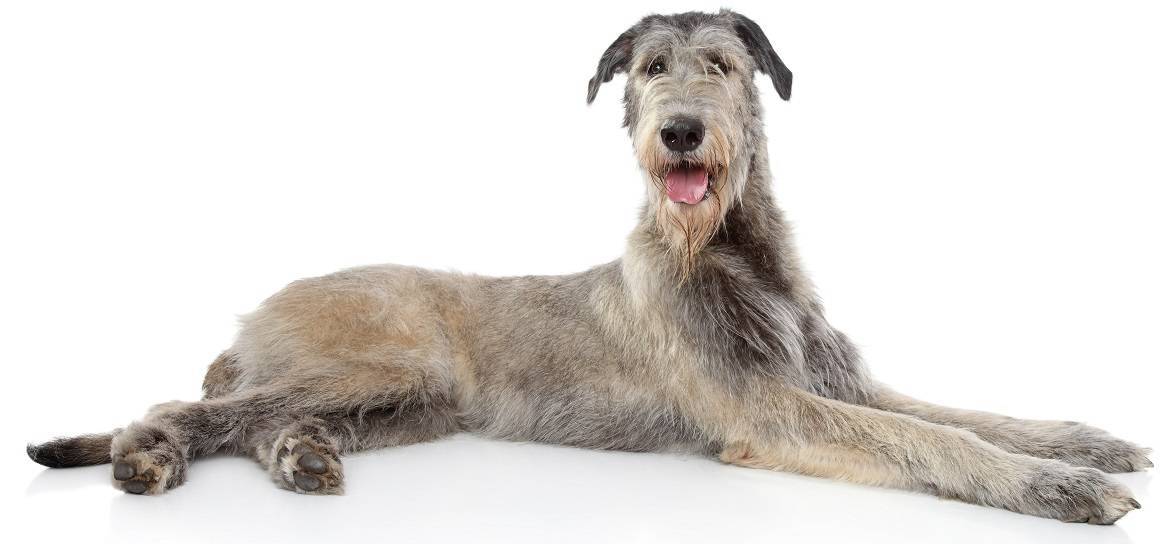 Paws 'N' Pups Quickview
Characteristics
Physical Characteristics:
Height: 32-35"
Weight: 115-180 lbs.
Energy Level: Moderate
Colors:
The American Kennel Club recognizes the Irish Wolfhound in 10 colors including the following most popular colors:

Black
Blue
Brindle
Cream
Gray
Red

Brindles are seen in gray, red, and wheaten.

Health & Longevity: 6-10 years
Breeders screen for the following conditions:

Hip and elbow dysplasia
Eye and heart disease
Bleeding disorders
Hypothyroidism

Unfortunately, osteosarcoma is somewhat prevalent in the breed. Like many large, deep chested breeds, Irish Wolfhounds are susceptible to gastric torsion (bloat), a life-threatening condition if immediate veterinary intervention is not sought. Liver shunts, and Osteochondrosis Dissecans (OCD), a painful condition caused by improper growth of the joint cartilage, are also seen, and may require surgical repair. Fibrocartilaginous Embolic Myelopathy can also occur; a result of an injury, FEM is a condition in which an area of the spinal cord is not able to function correctly and eventually atrophies, resulting in minor impairment of the hind legs to complete paralysis. Many dogs recover with treatment, but those fully paralyzed often require euthanasia. Like many sight hounds, Irish Wolfhounds are sensitive to anesthesia; a veterinarian experienced with sight hounds should perform any surgical procedures.
Temperament & Train-ability
The Irish Wolfhound has the unique distinction of being the world's tallest dog; some may outweigh him, but he looks down upon them all. Originally bred as a war, hunting and guard dog, this very old breed now serves almost exclusively as a loving companion to those able to care for and keep them. Sweet, reliable and easy going, Wolfhounds possess a keen sense of humor and enjoy spending their time close to their people. Some are calm and dignified, while others playful and silly. Often social with people and other animals, some retain their sight hound heritage and may give chase to cats or wildlife. Therefore, one should always keep a Wolfhound leashed for their safety. Some Wolfhounds are also aggressive to other dogs of the same sex; make introductions carefully. Most Wolfhounds are friendly toward strangers, but some are politely reserved. Not always the best watchdog, his formidable presence generally proves an effective deterrent to would-be burglars. Exercise needs are moderately high, with an hour daily walk/trot and a romp in a securely fenced area several times a week usually being sufficient.
Wolfhounds generally make wonderful family dogs, being an adoring and gentle companion to children. Due to their size, toddlers are not recommended; a young Wolfhound is quite bouncy, and an adult can knock over a toddler just walking by. Just as your dog will need careful socialization to learn appropriate behavior around children, your children must be taught how to properly interact with your Wolfhound. Never allow children to sit on, attempt to ride or pull ears, etc. Children should be taught how to recognize when a dog needs a break and give them space. Wolfhounds are not suited for apartment or condo life, or for those with small yards. Generally quiet indoors, Wolfhounds do need substantial room to move around and stretch out. A nice soft bed is needed to support and protect his joints from hard surfaces. A secure fence is needed, but even a large yard should not be your Wolfhound's living quarters. Wolfhounds do not tolerate the cold, and may need a coat in the winter. Working families gone all day should consider another breed, as the Wolfhound needs to be with his people. Left alone too long and anxious or destructive behaviors can set in. This giant breed can have trouble negotiating stairs as they age, so that is a consideration as well. Remember that his size enables the Wolfhound easy access to nearly every surface in your home; food and other enticements should be kept well out of his considerable reach. Novice dog owners should consider this breeds' size, and the need for considerable training when young, since few will be able to outmuscle him.
Being clean dogs, Irish Wolfhounds typically housetrain easily. Other training may not go quite as smoothly; although intelligent, sight hounds are known for their independent streak, and would much rather do things their way. With traditional force-based training methods, you might get kickback from the dog, or they may shut down completely. Positive reinforcement methods, on the other hand, will work beautifully for your sensitive Irish Wolfhound. They are not known for their speedy responses, but will comply if trained with patience. Not a lover of repetition, this breed is not a good choice for competitive obedience, but may enjoy therapy work, and many greatly enjoy lure coursing.


Grooming
The Irish Wolfhound's coat is rough and hard, with a soft undercoat. They shed all year round, but are low maintenance; dirt easily falls off when brushed. Weekly brushing will keep shedding to a minimum and keep the coat clean. During spring and fall, the coat will "blow", allowing new coat to come in; during these times, shedding will increase dramatically and brushing more frequently will lessen the hair in your house. Baths are often only done once or twice a year, if regular brushing is done (unless they get into something stinky). Some hand stripping can be done to keep the coat looking tidy, but should never be clipped. Ears must be cleaned regularly, and toenails should be trimmed. Teeth should also be checked and cleaned as necessary.


Diet
The amount of food an Irish Wolfhound will require can vary depending on age, activity level, and type of food fed. On average, Irish Wolfhounds will eat 4-8 cups of food, fed in two meals per day; free feeding should be avoided. A high quality food should be fed, preferably one formulated for giant breeds. Many breeders recommend elevating food and water bowls for this very tall breed.

Looking for a Irish Wolfhound?
Cost
Irish Wolfhounds run between $1,000-$2,500. Adopting a rescue dog is an option many prefer, in order to give a home to a dog in need. Whether you acquire a dog from a breeder or rescue, do your homework to be assured that the temperaments of the dogs are tested and sound.
Ongoing expenditures include the typical supplies, food, and regular vet visits. Remember, too, everything costs more with a large dog; beds, the amount of food needed, as well as veterinary procedures. Don't forget to consider whether your vehicle can safely accommodate an adult Irish Wolfhound.

Paws 'N' Pups Ranking
Paws 'N' Pups ranks every breed out of 4 with 1 being easiest to integrate into your life and 4 being the toughest – The lower the ranking the better.
Ranking takes into account a few basic factors such as cost, skill level needed, high vs. low maintenance, and how critical regular training is to success. The Irish Wolfhound rates a 2.5, due to their cost, size and short lifespan.


Breeds Similar To Irish Wolfhound