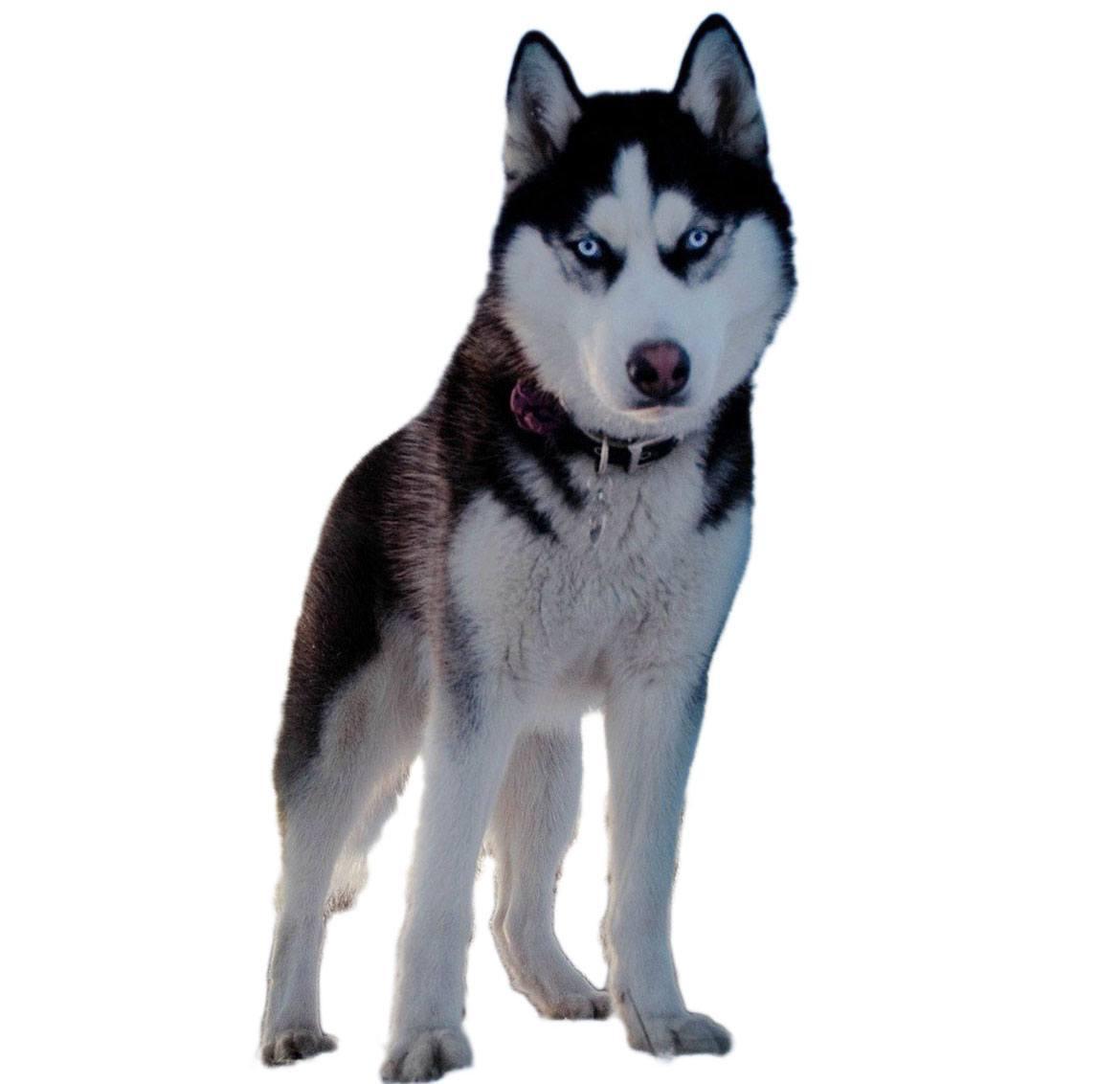 Paws 'N' Pups Quickview
Characteristics
Physical Characteristics:
Height: 21-26"
Weight: 35-60 lbs.
Energy Level: High
Colors:
The Alaskan Husky is found in the following colors:

Black & White
Orange
Grey
Blonde
Health & Longevity
Average Life Span: 10-15 years
The Alaskan Husky, mostly local to Alaska, aren't considered purebreds, but they are important sled and sports dogs. These pups have to be in good health most of the time, as they carry around people and loads of stuff through extreme weather conditions. However, there are a few health conditions that could affect the Alaskan Husky in the same ways it would affect other dog breeds.
Two of the most common health issues for an Alaskan Husky include:
Progressive Retinal Atrophy
This condition occurs when the retina in both eyes begins to degenerate, spontaneously. Alaskan Huskies have a genetic predisposition to this condition, but it is a 50/50 chance that any given pup will develop this health issue. This condition is incurable and will result in gradual blindness. However, most pet owners simply retrain their Alaskan Huskies with verbal cues to cope with vision loss.
Hypothyroidism
This condition occurs when the thyroid gland fails to excrete the right amount of hormones to stabilize the metabolism and other bodily functions. Symptoms include weakness, lethargy, exercise intolerance, severe weight gain, hair loss, disorientation, and cold intolerance. Treatment includes vet-prescribed hormone supplements and nutrient-dense kibble.
Other health problems that your Alaskan Husky may face are bloat, congenital heart problems, bleeding disorders, wheezing due to a malformed larynx, and a sensitive stomach. Because of their overall rarity in the breeder world, little is known about the Alaskan Husky, but the average lifespan seems to be between 10 to 15 years.


Temperament & Train-ability
Slightly bigger than their cousins, the Siberian Huskies, the Alaskan Husky is a gentle, sweet breed with lots of stamina for snowy activities. These pups are most common in cold climates, such as Alaska and parts of Canada, but they are rarer everywhere else. Their intolerance to heat makes it dangerous to own one of the pups in most southern states. While this fact makes the Alaskan Husky not recommended for warm-weathered places, these pups can adapt if given plenty of water and kept indoors in an air-conditioned environment during hot weather.
Alaskan Huskies are great pets for families, especially children, because of their natural even-temper and need for companionship. These pups are protective of their loved ones, and often bark at suspicious or threatening strangers. Otherwise, these canines are extremely sociable and very keen on getting to know new people.
When it comes to exercise, the Alaskan Husky is an energetic, athletic breed who needs plenty of time to romp, play, and explore. Fenced-in backyards and dog parks are ideal. But he would settle for some mental and physical challenges, such as an outdoor obstacle course, or a challenging new game indoors. You should also incorporate 2-3 walks a day into his play and exercise time.
Alaskan Huskies are some of the easier breeds to train. These pups have a natural eagerness to please, so they will easily comply with your commands after only a few repetitions. They pay attention and listen attentively to what you say, making them better in most training scenarios that other dogs.


Grooming
The Alaskan Husky is considered a low shedder until shedding season (summertime). Before shedding season, these pups need brushing 1-2 times a week to keep their short coat healthy, shiny, and smooth. During shedding season, the Alaskan Huskies need brushing daily to eliminate excess hair and keep their fur free of knots and mats.
Alaskan Huskies also need their ears cleaned once a week. Some dogs are more prone to ear infections than others. So, check for signs of infection, which might include redness, oozing pus (either white or yellow), foul odors, swollen ear tissue, and crustiness. If there is an infection, take your pup to the vet immediately. If not, clean her ears with a cotton swab and warm water.


Diet
Alaskan Huskies are big eaters because their energetic nature requires constant refueling. You should check with your vet to discuss the nutritional needs of your pup though, as many Alaskan Huskies' eating habits and nutritional needs vary depending on where they live. On average, a healthy Alaskan Husky needs to eat twice per day, with 2-3 cups of dry, high-quality kibble divided into those meals. You should also keep lots of water around to wholly, healthily keep your Alaskan Husky hydrated.

Looking for an Alaskan Husky?
Cost
Alaskan Husky puppies, from a reputable breeder, can cost anywhere from $250 to $600. And there have even been a few cited for well over $1,000. It depends on the overall genetics and good breeding of the pup, as well as the requirements and expectations of the breeder. Since this breed is rare in most states, it is important to put lots of time, energy, and effort into searching for a trustworthy, reliable breeder. Find someone who genuinely cares about their pups. Someone who wants their Alaskan Huskies to go to good, healthy, happy homes.
Before investing in a good breeder, check the local animal shelter. You never know what kind of breed you might find, so there is always a slim chance that an Alaskan Husky would be up for adoption. Most of the time, adoption fees range from $75 to $250, but that depends on county, state, and shelter regulations. There are also add-on services, such as spay or neuter, and vaccination updates. These services could drive up the adoption fee to around $400 or $500.

Paws 'N' Pups Ranking
Paws 'N' Pups ranks every breed out of 4 with 1 being easiest to integrate into your life and 4 being the toughest – The lower the ranking the better.
Ranking takes into account a few basic factors including cost, skill level needed, high vs low maintenance and how critical regular training is to success. While rare, Alaskan Huskies would make excellent companions for any type of pet owner. This fact earns them an integration rank of 1. These pups are sweet, affectionate, and obedient with very few flaws. Their personality is vivacious and loveable. And, for fitness-minded folks, these dogs would gladly run or walk with you wherever you wanted to go. The Alaskan Husky, overall, would be a perfect choice if you are on the lookout for a new canine friend.


Breeds Similar To Alaskan Husky